---
Houdini and Unreal Engine
---
So based on the response from last week (part 1) it looks like there is a small but active group of people that this tutorial series would be helpful for, so I'm going to keep it going. Keep in mind that I haven't been using Houdini for very long and one of the things I've found is that there is no one correct way to build anything in this software. So if you see something I'm doing that you think can be done a better way, please leave a comment and I'll try to add your method to my post.
Before I go into the techniques for this week I'd like to dig into the some really simple stuff about the network view that I skipped over last week. First lets take a look at the nodes you can lay down in the network view using the box node from last week as an example.
Network View Nodes Cheat Sheet
---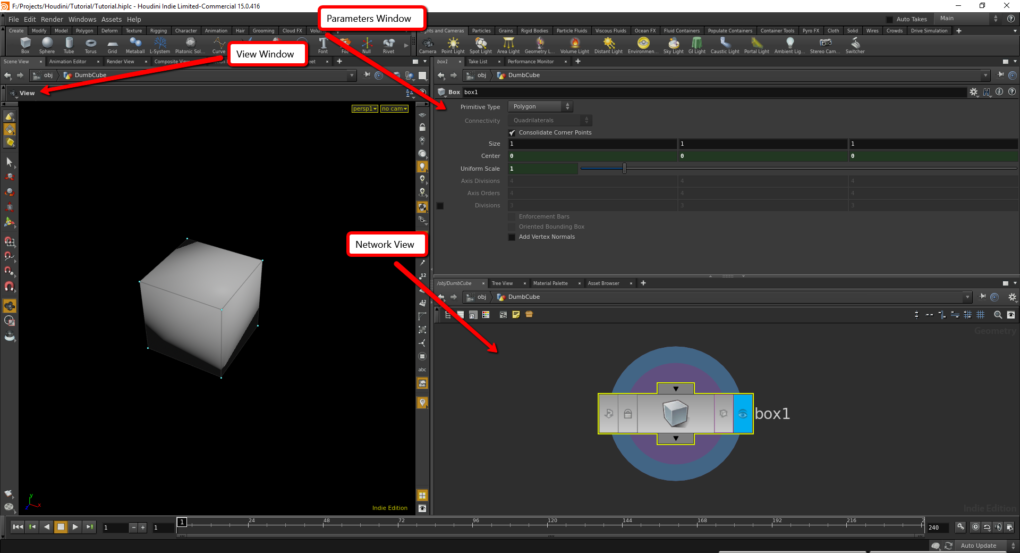 Most nodes have one or more inputs coming from the top, one output coming from the bottom, and four buttons along the face of the node. These buttons change how you interact with and display what's available in the "View" and "Parameters" windows.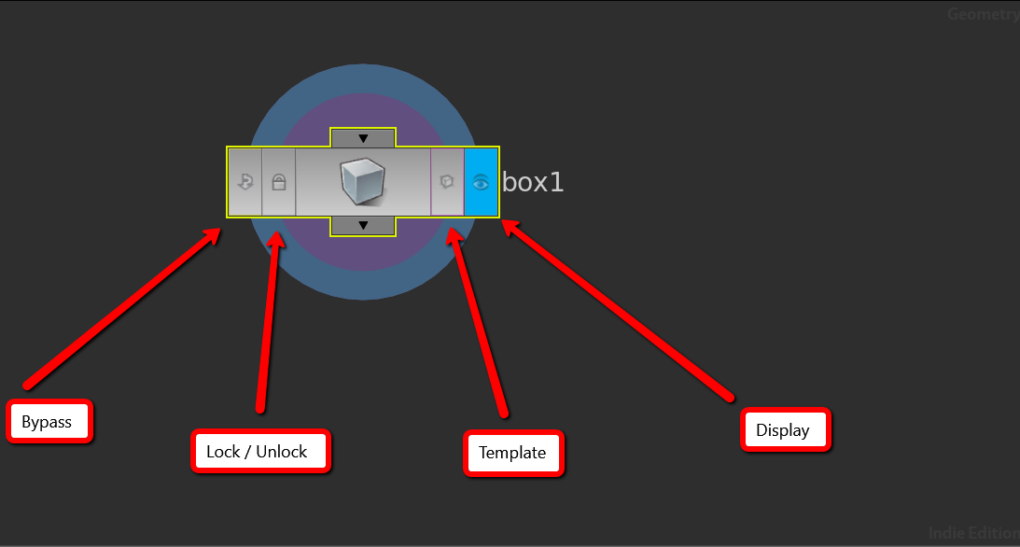 Bypass ignores all effects of this current node. Lock prevents you from making any changes to this node. Template forces this node's output to be drawn to the view behind the actual output for the graph. This is really useful if you are trying to see a screenshot of the graph at a particular point compared with its current version. Finally there is the display button. The display button can only be active for one node at a time within a graph and designates that node as the output for the graph.
The amount of different nodes available for use can be overwhelming to a new user but Houdini does a good job of explaining as much as it can at each step if you know where to look. Confused about which input on a node does what? Just middle click on it and it will label it for you.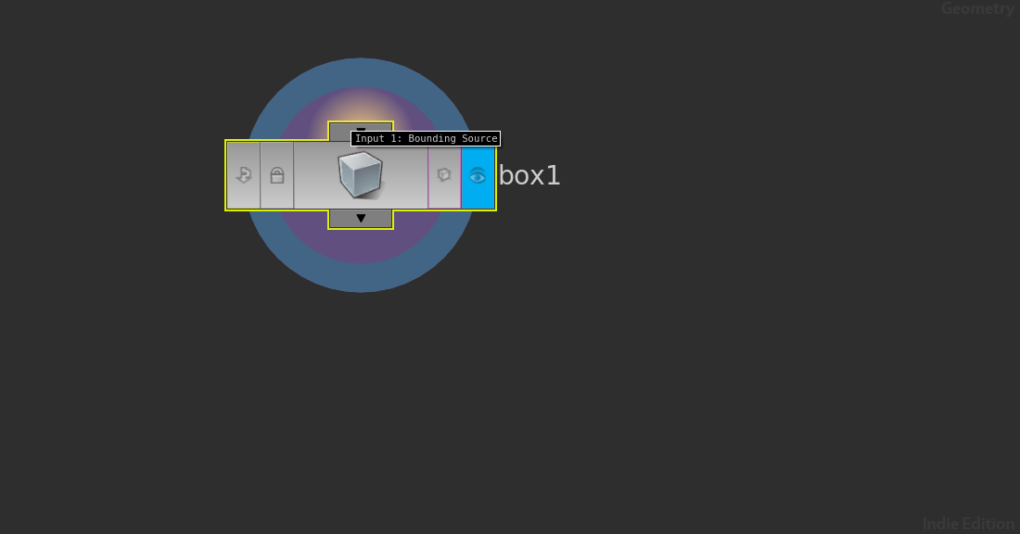 Want to know any of the stats for your graph at any one node? Just middle click the center of the node.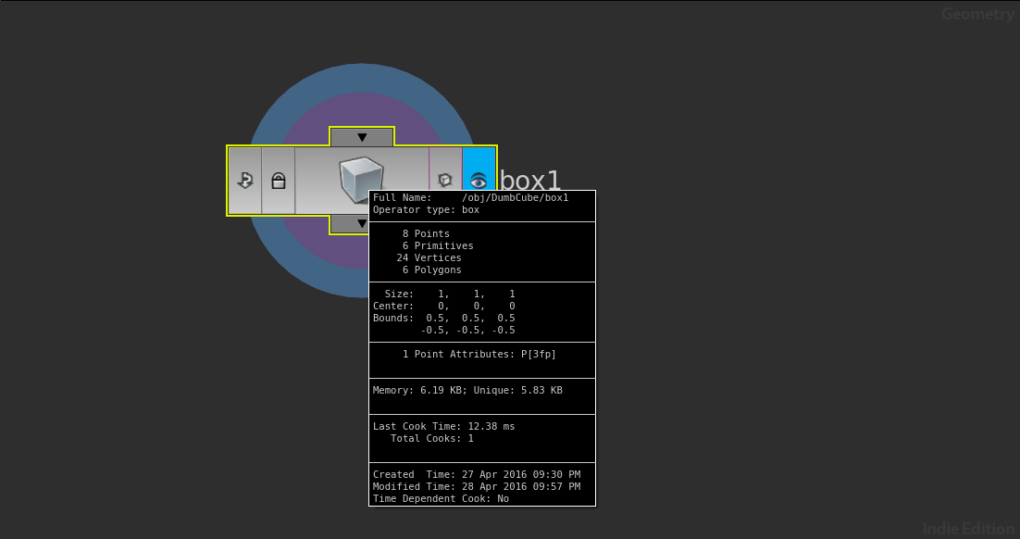 Confused about what a node does? Right click and select help and it will open up the documentation right in the app for you.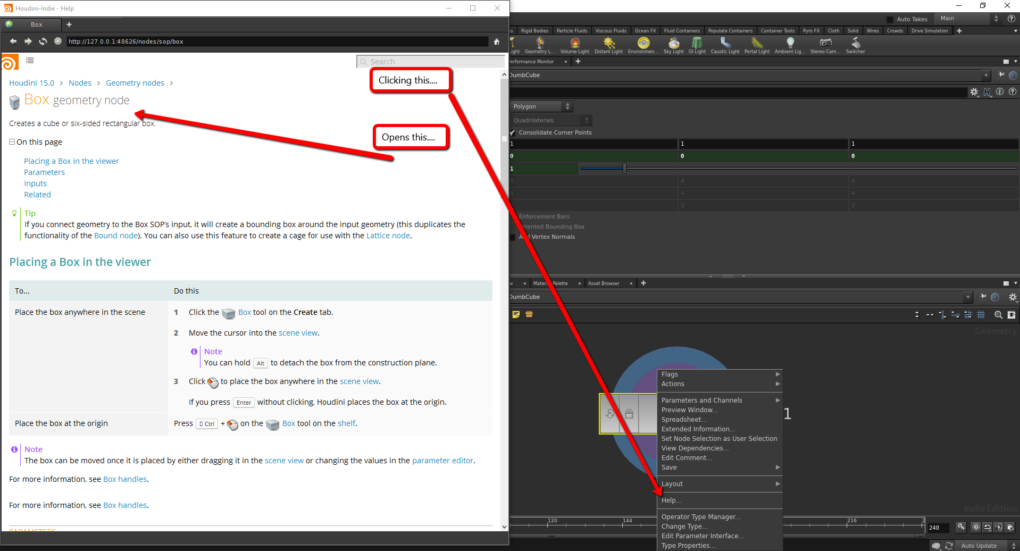 I might not be able to think of everything you guys might get stuck on trying to follow these tutorials, but if you use these resources hopefully you can dig yourselves out of any hole I accidentally lead you down.  😉
Sweeping A Curve
---
One of the best parts about using Houdini with Unreal is the ability to draw a curve right in engine and have your geometry update immediately. Meaning you can now just draw walls, bridges, and corridors. Should you need to rearrange the level later due to play testing, just adjust the curve the geometry is using and you instantly have a new usable mesh. This kind of workflow allows you as a level designer to be way more iterative in your process. In order to do anything like that we need to know how to accept a curve from Unreal and how to sweep a shape across that curve.
Thanks for reading. If this topic continues to interest you tune in again next week for some sweet scattering and copy stamp action!